What is a corporate bond?
It is a type of debt security issued by a company and sold to investors, in order to raise capital.
What are the differences between government and corporate bonds?
While both provide regular income through interest payouts, corporate bonds are relatively riskier than government bonds because of the additional risk that the company may not be able to repay its debt obligation. Here's a quick comparison between government and corporate bonds: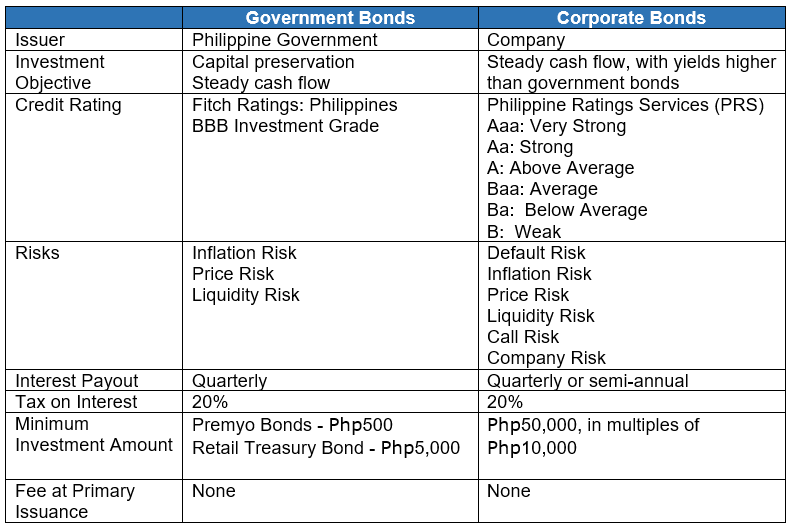 Can I participate in corporate bonds through FirstMetroSec?
Yes. As the online ordering facility of First Metro Investment Corp. (FMIC), the underwriter/selling agent, FirstMetroSec allows its clients to further diversify their portfolios through corporate bonds offered in the primary market, at zero broker's fees.
Is this open to joint and In-Trust-For (ITF) accounts?
Yes.
How much is the minimum investment amount?
Minimum of ₱50,000, in multiples of ₱10,000 thereafter
When will the bond appear on my portfolio?
Within 5 business days from Issue and Listing Date.
What is the Name-on-Central Depository (NoCD) facility and why is this required?
With the Name-on-Central Depository ("NoCD"), the security is booked under your name in the records of the Philippine Depository & Trust Corp ("PDTC"). It also allows the broker, FirstMetroSec, to receive dividend and interest payments on behalf of its clients. Thus, as investor, you are able to receive your interest payouts directly to your FirstMetroSec account.
Where and when do I receive the interest payments?
Regular interest payouts will be credited to your buying power on the scheduled dates. Should the date fall on a weekend or holiday, they will be credited on the next business day.
What would be my proof of investment?
After issuance date, the Confirmation of Sale will be available for download from your FirstMetroSec account. The Philippine Depository & Trust Corp. (PDTC) will send your copy of the Authority to Purchase (ATP) through your registered email address, while the Registry Confirmation (RC) will be sent via snail mail. Delivery period varies.
Can I sell corporate bonds before maturity?
Yes, you can sell corporate bonds in the secondary market based on the prevailing market rate, subject to broker's fees and taxes. Click HERE to learn how.