Philippine Stock Index Fund (BPIPHID), PAMI Equity Index Fund (PEIF) and ALFM Money Market Fund (ALFMMMF) now issue units of participation (fractional) instead of (whole) shares. Existing investments remain intact can be redeemed any time through the classic platform. To redeem, please follow the below steps.
1. Go to firstmetrosec.com.ph and click FirstMetroSec CLASSIC.

2. Login with your Username and Password.

3. Click FUNDSMART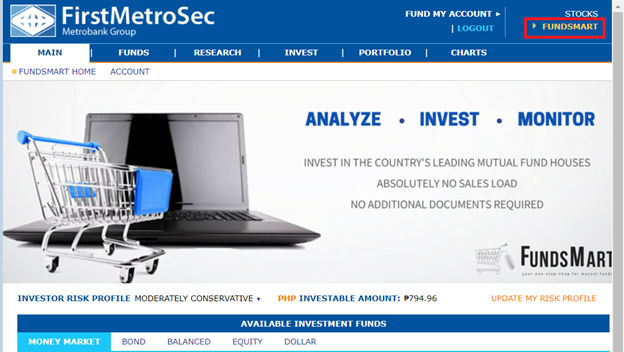 4. Go to PORTFOLIO > MUTUAL FUNDS, and click RDM (Redeem)

Daily cut-off is 11:00AM. Orders received after this time will be processed on the next business day.
Regular redemption settlement for the corresponding fund applies.