1. Launch the MetroRemit mobile app and log in using your credentials.
2. Go to BENEFICIARY to add FirstMetroSec.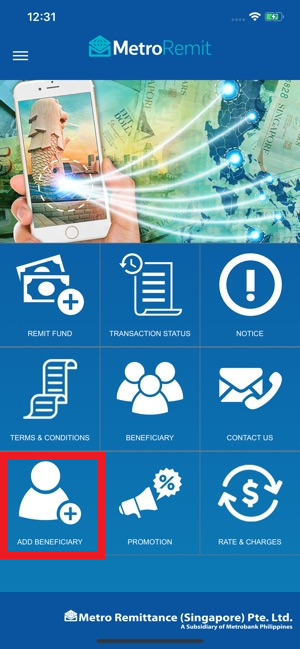 3. Fill in with your name, address, and contact number. Then complete the following fields with these information:
a. Relationship: OTHERS
b. Others, please specify: SELF
c. Purpose of Remittance: INVESTMENT
d. Mode of Payment: BANK TO BANK
e. Bank Name: METROBANK
f. Branch Name: FIRSTMETROSEC
g. Account Number: 0
Click NEXT to proceed. Wait for a One Time Passcode (OTP) which will be sent to your email to complete the verification. The customer service will validate your beneficiary. Once done, you can proceed to make a transaction.

4. Next, go to REMIT FUND.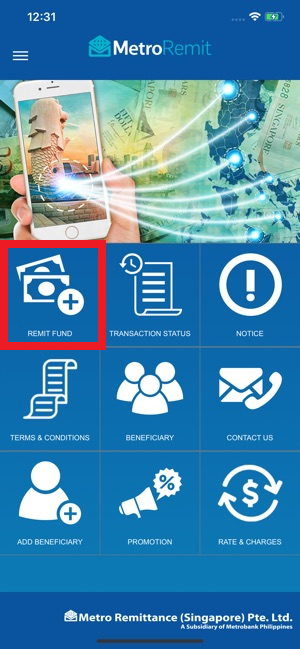 5. Select the beneficiary previously registered, then enter your name as Beneficiary Name. Select your preferred payment method.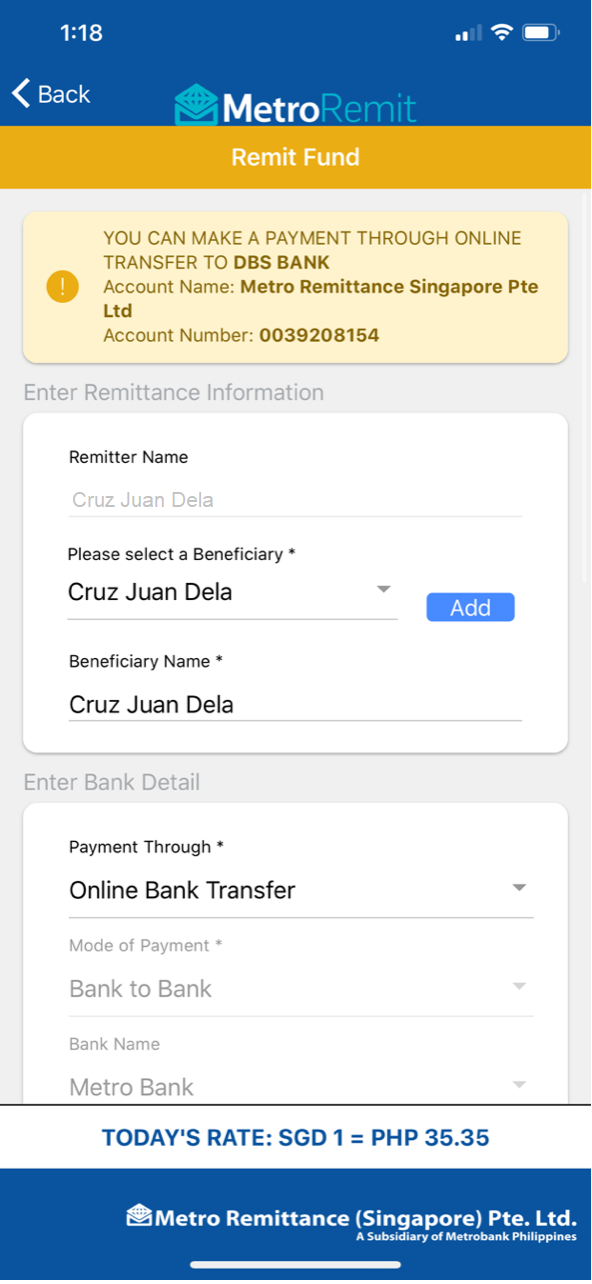 6. Input your desired amount. Total Amount to be Paid will be auto-computed and converted to Singaporean Dollar. Select your Source of Fund, then fill in the remaining fields with the following:
a. Relationship: SELF
b. Purpose of Remittance: INVESTMENT
c. Remarks/ Reservation No.: Your FirstMetroSec Account No. (i.e. OTAxxxxx)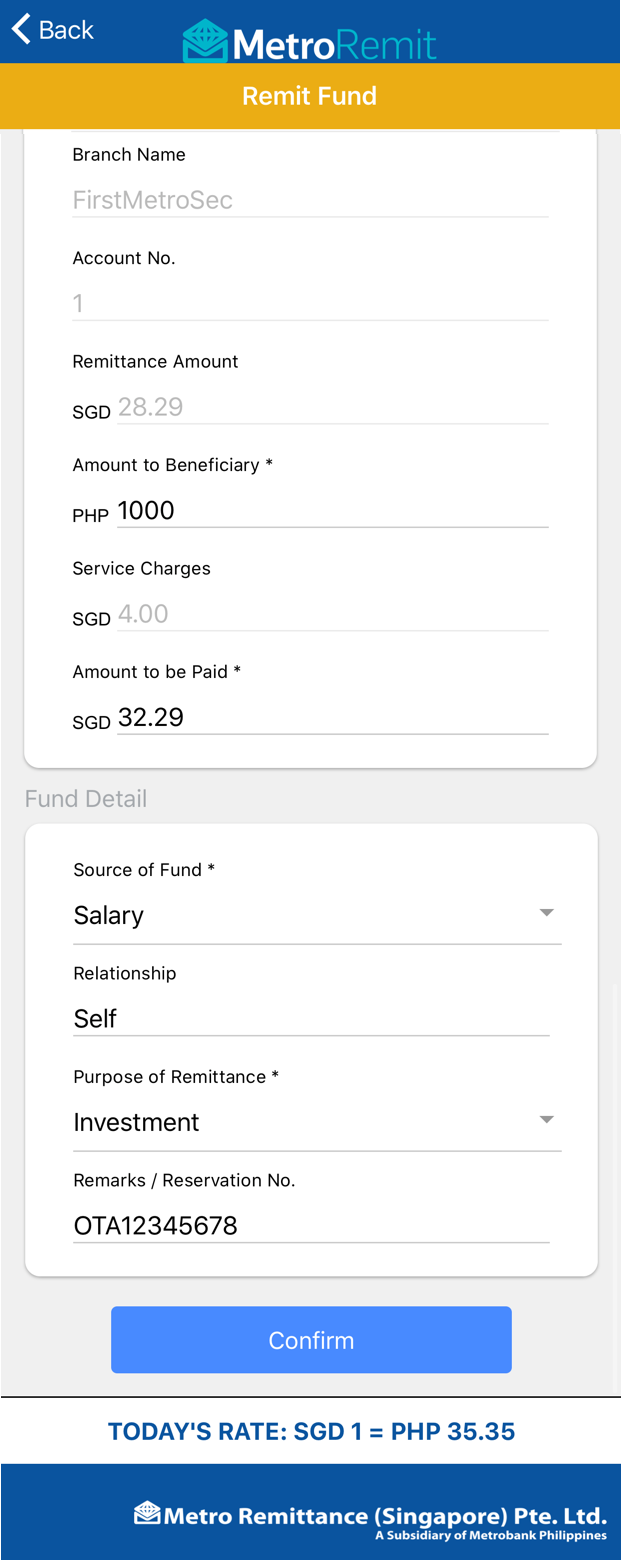 7. Wait for the remittance instruction which will be sent to your email. For online bank transfer, use your personal banking app to pay within the prescribed time.
Note: For security, payment instruction will be automatically deleted within one (1) hour.

8. Once you complete the fund transfer, wait for the transaction receipt.
FAQS
Can I use foreign-issued bank accounts to fund my FirstMetroSec account?
Yes. However, please note that PERSONAL/PHYSICAL DEPOSIT TO DBS ACCOUNT IS NOT ACCEPTED. Instead, you may send your payment via online banking to MetroRemit SG within an hour:
| | |
| --- | --- |
| | Account Information |
| Bank Name | DBS Bank |
| Account Name | MetroRemitSG |
| Account number | 0039208154 |
Can I fund my account without registering as beneficiary?
No, you need to register beneficiaries for all remittances initiated using the app. However, you can modify or delete these beneficiaries anytime.
Why do I need to register myself as a beneficiary?
Because you're funding your FirstMetroSec account, which you registered under your name. This would also distinguish your account funding transaction from your regular remittances. Make sure to enter "FirstMetroSec" and your FirstMetroSec account number, as instructed above.


How do I know the status of my transaction?
You may review all your transactions in the Transaction Status page on the MetroRemit SG app/website.
What are the fees and charges?
A service fee of SGD4 will be charged per transaction.
Is there a transfer limit?
The mobile app daily transaction limit is SGD12,000. For higher amounts, please visit the MetroRemit SG branch.
How do I know if my transaction was successful?
You will be notified by MetroRemit via email.
Can I fund my FirstMetroSec account at the MetroRemit branch itself?
Yes, fill out the BILLS PAYMENT form with First Metro Securities Brokerage Corp. as biller/merchant, instead of remittance. Use Biller Reference No. 660.
I have questions on my remittance/funding transactions, how do I get in touch with MetroRemit SG?
Contact details:
MetroRemit Singapore
03- 30 Lucky Plaza, Orchard Road, Singapore 238863
Email: mbsingapore@metrobank.com.ph
Tel No: +65 6734 2748
Can I fund my account through other MetroRemit locations?
Yes, over-the-counter bills payment to FirstMetroSec is available in these countries:
| | |
| --- | --- |
| Country | Branches |
| Hong Kong | Metro Remittance United Centre, Worldwide House, Shatin, Tsuen Wan, and Tsuen Kwan O |
| Korea | Metrobank Seoul and Metrobank Pusan |
| Taiwan | Metrobank Taipei |
| China | Metrobank Shanghai, Beijing, Nanjing, Changzhou, Quanzhou, & Xiamen |
| Canada | Metro Remittance Center Toronto & Vancouver |
| USA | Metrobank New York, MB Remittance Center Honolulu & Waipahu |
| UK | Metro Remittance London |