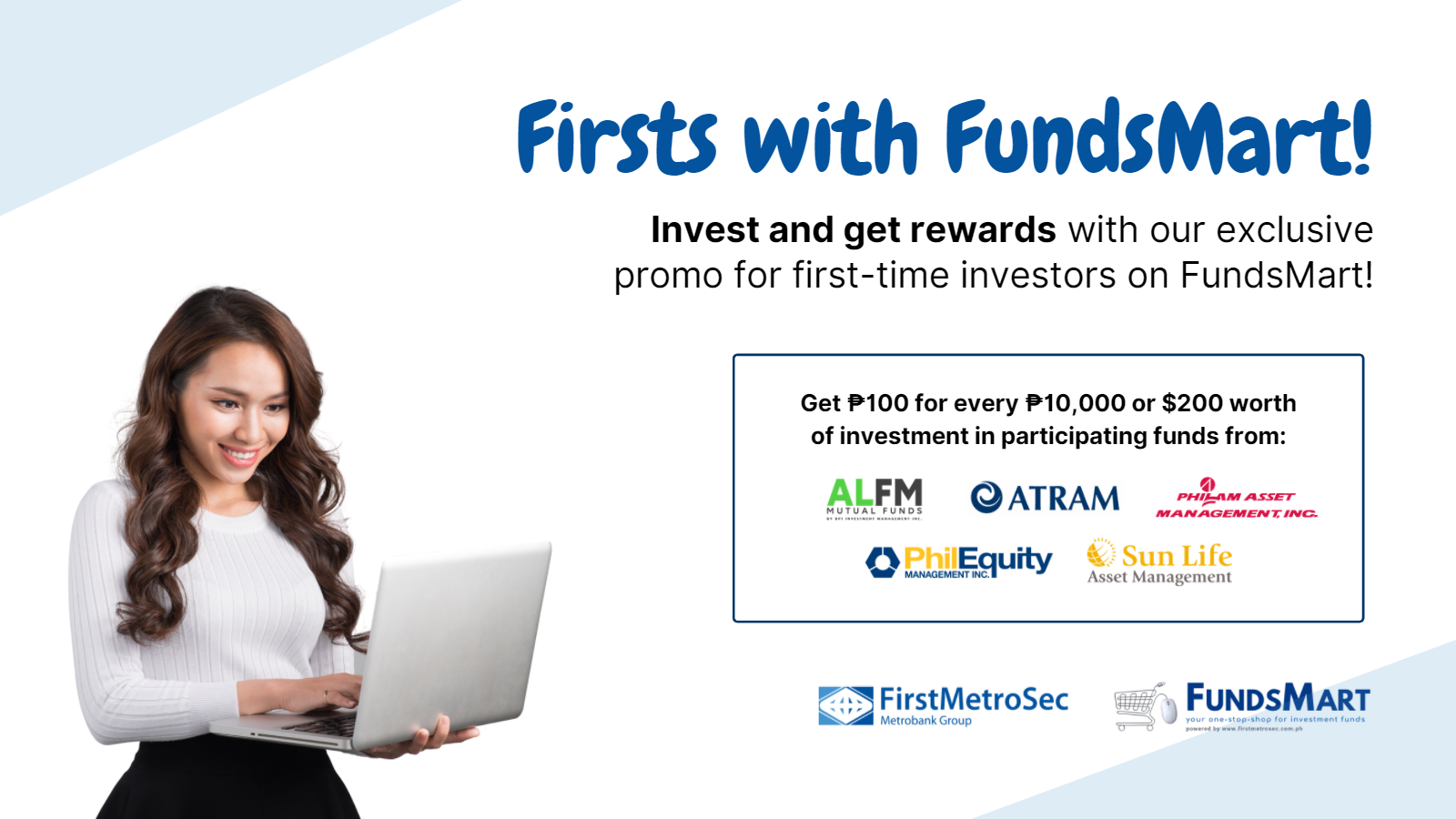 Firsts with FundsMart: Invest and get rewards with our exclusive promo for first-time investors on FundsMart
Get ₱100 (or USD equivalent) for every ₱10,000 or $200 worth of investment in any participating non-money market fund from May 15 to July 15, 2021!
Mechanics:
All FirstMetroSec accounts without prior investment on FundsMart are eligible.
Non-FirstMetroSec clients may participate by creating a FirstMetroSec account at https://www.firstmetrosec.com.ph/fmsec/registration/path..

Eligible clients will be notified through their registered email address.

Reward will be credited on client's buying power. Crediting will be on the following dates:
| | |
| --- | --- |
| Period | Crediting Schedule |
| May 15-31 | June 15, 2021 |
| June 1-15 | June 30, 2021 |
| June 16-30 | July 15, 2021 |
| July 1-15 | July 30, 2021 |
Participating funds are subject to a 6-month holding period. Redemptions within this period shall be subject to a 1% early redemption fee or the cost of the reward (whichever is higher).

Cumulative investments of various funds are allowed as long as funds are under a single provider.

Maximum rewards per single account is P5,000.​
Participating non-money market mutual funds:
Peso-denominated Funds
Dollar-denominated Funds
ATRAM Alpha Opportunity Fund
Sun Life Prosperity World Voyager Fund

ATRAM Unicapital Diversified Growth Fund

ATRAM AsiaPlus Equity Fund
Phil. Stock Index Fund
PAMI Asia Balanced Fund
Philequity Fund
ALFM Global Multi-Asset Income Fund
Philequity Dividend Yield Fund
Philequity Alpha One Fund
Sun Life Prosperity PH Stock Index Fund
Sun Life Prosperity PH Equity Fund
Promo period is from May 15 to July 15, 2021. FundsMart may be accessed through the websites (NEW, PRO, and Classic) only via https://www.firstmetrosec.com.ph/fmsec/.