You can open an online trading account seamlessly through either the user-friendly GO mobile app or our website. Here's a detailed guide on how to make the most of both options to suit your preferences and lifestyle.
FirstMetroSec GO mobile app:
Busy and always on-the-go? Open your account now thru FirstMetroSec GO mobile app!
Download and install FirstMetroSec Go app from Google Play Store/App Store.
Launch the app, then tap SIGN UP NOW to start your account application.
Easily set up your account by filling in all the necessary information, uploading the required documents, and completing the selfie verification.
PERKS OF OPENING AN ACCOUNT VIA MOBILE APP:
Fast and convenient – Easily fill out the form, snap a photo of your documents, and take the selfie verification using your mobile phone. You will also be able to view the status of your application on the signup page.
Accessible – Complete the application anytime and anywhere, even when you're abroad.
15-day free trial to FirstMetroSec GO – You will only need to provide your (1) Name, (2) Date of Birth, (3) Gender, (4) Email, and (5) Mobile Number and verify your email address to gain instant access to exclusive market data, research, charts, and more.
30 days to complete the requirements – No rush. You will have enough time to complete any pending requirements. Click

HERE

for the list of requirements.
CAN I OPEN A JOINT OR IN-TRUST FOR ACCOUNT VIA MOBILE APP?
For now, only individual accounts can be created using the mobile app. For other types of accounts, Joint and In-Trust-For (ITF), you will have to complete the application through the FirstMetroSec website.
FirstMetroSec website:
1. Go to www.firstmetrosec.com.ph and click OPEN ACCOUNT. You may also click here.
2. You will be asked if you are a Metrobank Account holder or other bank depositor.
3. Choose your account currency, PHP or USD, and account type - Individual, Joint, or In-Trust For. Then, complete the form. Ensure the correctness of the details that you will input.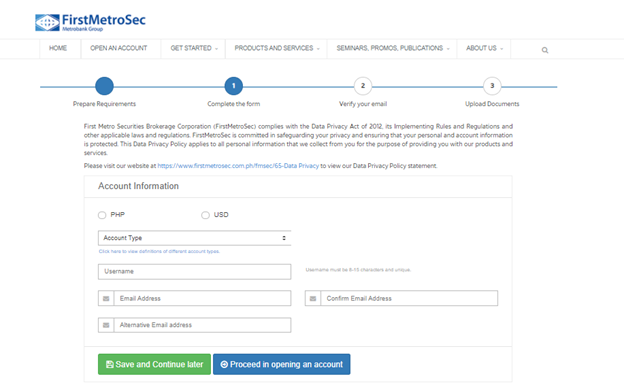 4. Verify your email. You will receive an email with your Online Registration Application reference number and the link to the next step.
Note: Also check your spam/junk folder. If you didn't receive the email notification, click the link indicated on the website.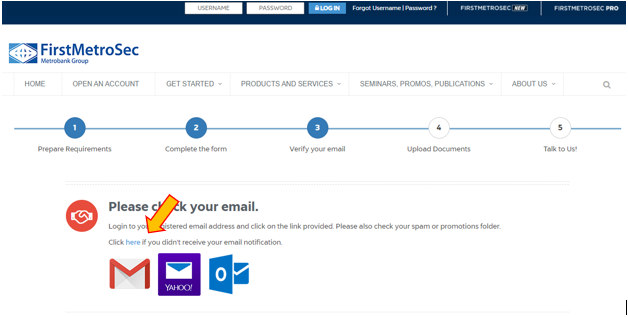 5. After you click the link on the verification email, you will be redirected to the "Upload Documents" section. Do not skip this stage. Only applications with complete uploaded documents will be processed.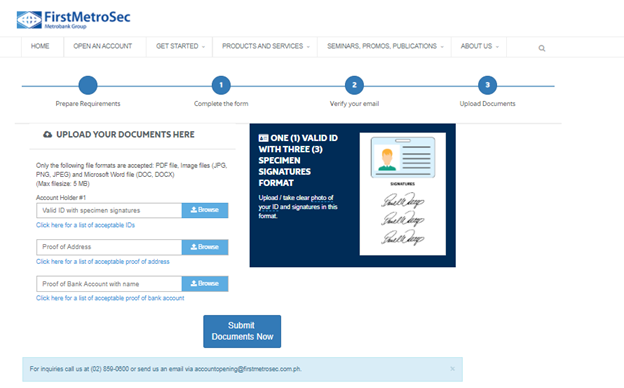 Note:
Only the following file formats are accepted: PDF file, Image files (JPG, PNG, JPEG) and Microsoft Word file (DOC, DOCX)
Max file size: 5 MB
Guide for documents uploading
Signature Bearing Government Issued ID + 3 Specimen Signatures. Please follow the format on the screenshot.
List of acceptable IDs for Metrobank account holders. Do not forget to sign 3 times:
Passport
Driver's License
SSS or GSIS Card
PRC ID (front & back)
Unified Multi-purpose ID
Philhealth Card
TIN Card
Voter's ID
Senior Citizen ID
Proof of Address. Submit any document showing the preferred mailing address you indicated in the application form. Billing statement named under another person is fine.
List of acceptable documents:
Bank Statement
Credit Card Statement
Insurance Statement
Electricity Bill (i.e. Meralco)
Water Bill
Telephone or Cellphone Bill
Cable/Internet Bill
Association Dues
Remittance Receipt
Proof of Bank Account. Provide any of the following that shows your bank account number:

Teller-validated deposit slip
Bank statement/certification
Screenshot of online/mobile banking account
ATM card with bank account number (ATMs with only the debit card# not accepted)
Passbook showing your name and account number
*Bank account name should match the name indicated in your FirstMetroSec application
*Name on the bank account will be followed for married/maiden name
*Joint accounts require a joint bank account
*For In-Trust-For (ITF) accounts, the minor's Metrobank Fun Savers/Spark account is accepted
*For dollar accounts, you may nominate a peso bank account. Withdrawals will automatically be converted to PHP. Note: Applicable to clients with existing FirstMetroSec PHP trading account only.
Proof of Self-Employment/Business (for self-employed and business owners only) Please provide any supporting documents such as DTI Certificate, Business Permit, BIR FORM 2303, sample contract, etc.
6. Thank you for signing up! Your application and uploaded documents will be submitted for validation. Please check your email within the next 2-3 business days for possible deficiencies. Email any lacking requirement to accountopening@firstmetrosec.com.ph with your Online Registration Application Ref# as subject.
Once all requirements are correct and complete, you will receive an e-mail confirming your account's activation.