Step 1: Enroll Company/Biller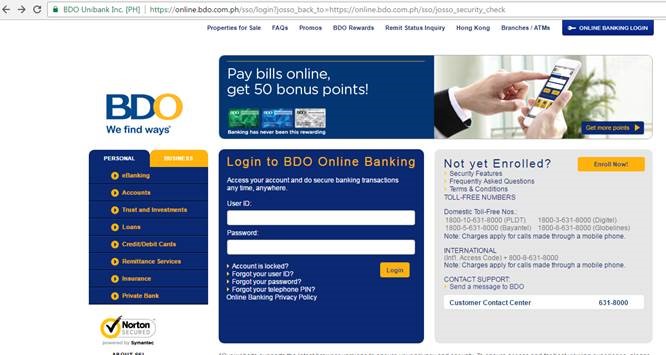 1. Go to https://online.bdo.com.ph and log-in using your account details
2. On the left menu bar, click on Enrollment Services
3. Under Choose an Option, select Company/Biller
4. Then click on Enroll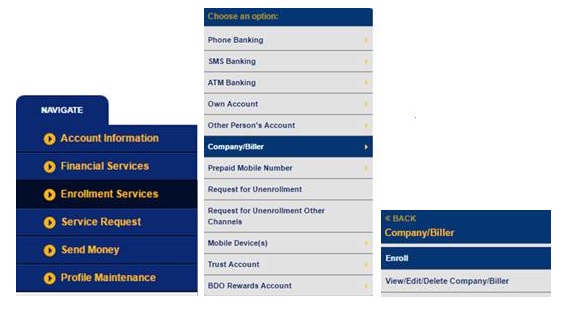 5. Under Company/Biller Name, choose First Metro Securities Brokerage Corp - USD
6. Enter Subscriber Number, your FMS Account Code (UOTAxxxxx)
7. Enter Subscriber Name, your FMS Account Name
8. Indicate your Preferred Nickname for the Company/Biller enrolled
9. For Select Channels For Enrollment, put a check on Online Banking
10. Then click Submit
Step 2: Transfer funds to your FMS account using Pay Bills

1. On the left menu bar, click on Financial Services
2. Under Choose an Option, select Bills Payment
3. Then click on Pay Bills
4. Fill out the Payment Details
5. For Pay from, choose the funding/source account
6. For Pay this Company/Biller, select the FMS Biller enrolled in Step 1 --- First Metro Securities Brokerage Corp-USD (UOTAxxxxx)
7. Enter the amount you wish to transfer to your FMS account
8. For Payment Schedule, select Immediately
9. Click Submit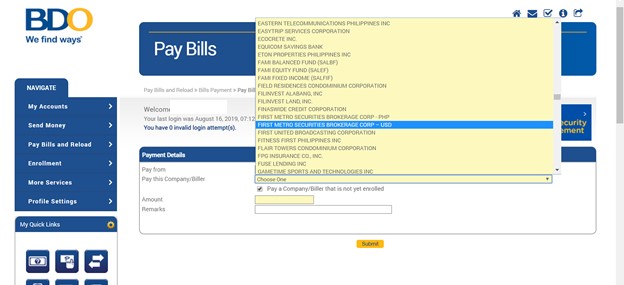 *Each fund transfer transaction using BDO Online Banking is FREE-OF-CHARGE.

Discalimer: Kindly transfer funds within office hours (8:30AM-5:00PM) so that it will be reflected in your FirstMetroSec account within the day. If funds are transferred beyond office hours, please send a copy of the fund transfer receipt with your name and FirstMetroSec account code (UOTAxxxxx) to customerservice@firstmetrosec.com.ph. Funds transferred beyond office hours will be processed the following business day.
Via Over-the-counter Bank Deposit:

Remember that dollar notes (cash) deposits require days to clearing, which is normally 5 to 7 days. You may deposit or transfer funds to the following accounts:
| | |
| --- | --- |
| Account Name | FIRST METRO SECURITIES BROKERAGE CORP. |
| Metrobank | SA #: 174-2-17400472-7 |
| BDO | SA #: 10360-032-7881 |
*Dollar transfer charges (PDDTS) in the course of buying and selling the securities are for the account of the investor. Charges per bank varies.

To assign the deposit to your trading account, e-mail the scanned copy of deposit slip or Transaction Confirmation to customerservice@firstmetrosec.com.ph.