From Overseas:
Visit your local bank or remittance center and wire the amount in US$ to either one of these accounts:
Currency: US Dollars
Account Name: First Metro Securities Brokerage Corp.
| | | | |
| --- | --- | --- | --- |
| Bank | Branch | Account No. | Swift Code |
| Metrobank | Ayala Bankmer Makati | 174-2-174-00472-7 | MBTCPHMM |
| BDO | Ayala Triangle Makati | 103-600-327-881 | BNORPHMM |
| BPI | Ayala Paseo Makati | 0034-0559-63 | BOPIPHMM |
Submit the transaction confirmation/receipt via Help Center with your FirstMetroSec Account Code, Full Name, Amount, Date, and Time of transaction.
Once confirmed, amount will be reflected in your FMS account on the next trading day.
Receipt of funding depends on the source location, normally, 3-7 days. Tip: transact with the local bank/remittance center with partnership with either Metrobank or BDO for a faster turnaround time.
Remittance fees and receiving charges, if any, shall be for the client's account.
Via Online Bills Payment
Note that this option is limited to Metrobank and BDO online banking users with US$ accounts, and is free-of-charge.
Via Over-the-Counter at any Metrobank branch
A. With US dollars on-hand:
Fill out the (green) Payment Slip
Check Dollar Billing
Under Company Name, write "First Metro Securities Brokerage Corp."
Use Reference Code 512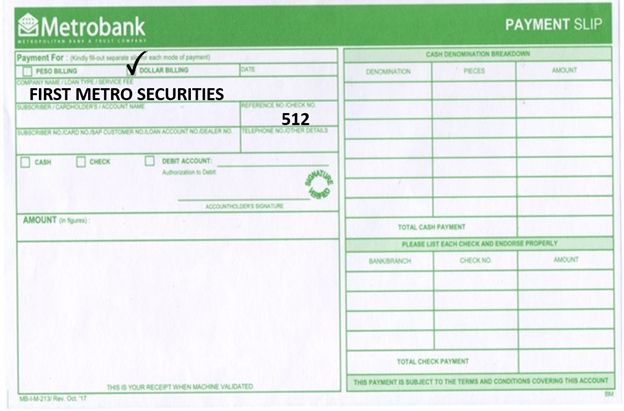 B. Purchasing US dollars using PHP for the purpose of investments
How to Convert PHP to USD for Investments?